recipes
Recipes Tasty's New Cookbook Is A Celebration Of Love
Letter from the Editor: Tasty PrideAs a gay man who once worked in restaurant kitchens, I've seen the way queer people can be overlooked or underestimated in the world of cooking. When I left professional kitchens and began working in food media, I wanted to find a way to reach people who, like my former…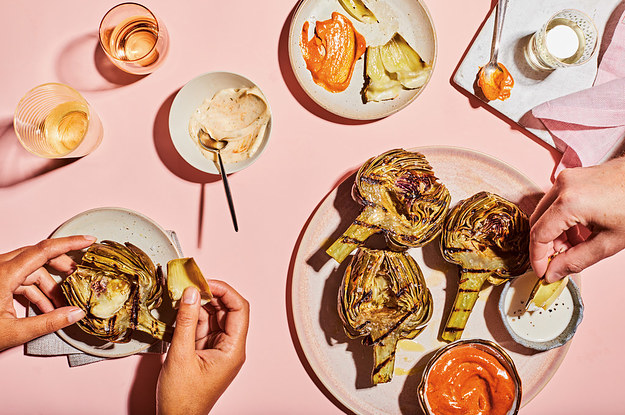 Recipes
Recipes Letter from the Editor: Tasty Pride
As a gay man who once worked in restaurant kitchens, I've seen the way queer people can be overlooked or underestimated in the world of cooking. When I left professional kitchens and began working in food media, I wanted to find a way to reach people who, like my former self, longed to see themselves represented in the culinary world. Most importantly, I wanted to convey to young queer cooks that there is a bright and hopeful path forward, that their stories are needed, and that a community is waiting to welcome them with open arms.

That is why I'm so excited to announce Tasty Pride: 75 Recipes and Stories From the Queer Food Community. It's a technicolor celebration of queerness that highlights the incredible accomplishments of my community, with submissions from iconic and inspiring chefs, food lovers, and activists including Antoni Porowski, Julia Turshen, Nik Sharma, Jesse Tyler Ferguson, Rick Martinez, Ted Allen, Deborah VanTrece, and so many more.

These recipes and stories come from the hearts of pioneers who have paved the way for more inclusive, more loving kitchens, and have filled their own communities with acceptance and pride.
The recipes in the book range from festive everything bagel beignets from Babetown founder Alex Koones to comforting coconut rice and peas with fish from chef Charlie Monlouis-Anderle to oatmeal raisin cookie ice cream sandwiches from Edd Kimber, winner of The Great British Bake Off. It's an eccentric and delicious collection of recipes that highlight the rainbow of diversity in the community.

Support The Smilington Post
Help us tell more of the stories that matter
">Buy one of our staff a latte!
Tasty Pride is not just a cookbook; it is an investment in the queer community. Every contributor, cross tester, copy editor, designer, stylist, and photographer was paid for their work, and upon the book's publication this May, BuzzFeed's Tasty and Random House have committed to donating $50,000 in total to GLAAD, a nonprofit we all hold dear to our hearts. For over 30 years, GLAAD has been at the forefront of cultural change, accelerating acceptance for the queer community. I can't think of a more loving or delicious way to kick off Pride Month.

I hope that all of you love this book just as much as I do and can see yourself and your community in its pages. This is our book — our way of showing the world that there is a seat at the table for each and every one of us. Tasty Pride is now available for preorder from Amazon, Barnes & Noble, and everywhere books are sold and will be released on May 12, 2020. It's bright, glossy, and beautiful, and I can't wait for you to read through it, cook from it, and feel yourself represented on every page and in every story. <3
Wit

Subscribe to the newsletter news
We hate SPAM and promise to keep your email address safe